Author Authentic Presents:

The "Stunt Manual v.4.0: BETA!!!"

a*k*a*

The Stuntman's Style Guide
Here is my ranking system 5 star being the highest and "stuntworthy"
1)
Collector Value
- This is for the shit you buy just to have because you're "that guy"
2)
Practical Value
- Could I actually see myself using this shit?
3)
Street Value
- Would the hood fuck with it?
This is kind of old news but it is something I eventually want to own. I been looking at this since the top of the year, but for some reason never got around to purchasing one. Possibly because I'm not a dumbass and this is completely unnecessary… well, maybe if u wanted to go to the park and write but still look like, yeah, I'm the shit. Personally I opt for a nice set of headphones. Anyway, nothing says hip hop like big radios and no one makes big radios like Lasonic. I used to have a Sony box back in the day that I used to walk around with. Usually playing the first Killarmy album or Wu-Tang mixtapes that Cise used to make and dub for our friends. Back then I wish I had this…
Lasonic: "Ipod Boombox"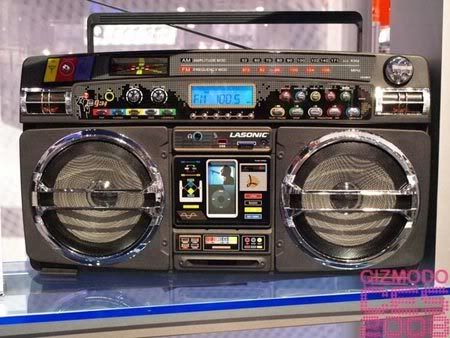 Plenty knobs, switches and gizmos for you tweakheads out there. And It looks f'in great. I'd love to do a shoot with one of these. This makes me wanna buy a fridge so I can break down the cardboard box and do backspins. I bet this bitch sounds great too. The old boxes they had that ran tape were some of the best.
Collector Value: ***
Practical Value: ***
Street Value: *****
I don't walk anywhere. I walk to my car. And the novelty of walking around with a boombox ended for me in high school. It wouldn't really work as a home stereo. Still it'd be dope nonetheless. I'd find a use for it. Maybe I'll buy one and go be a subway performer.
***************************************************
About a week ago I was net-surfing trying to find the next hot thing so I could laugh at you like, "hahahahaha!!! I know about this and you don't!!!! naaaah naaaaaah!!*", and I came across something that caught my eye. [heh, that's what she said] (* I don't really do that… but who cares anyway. There I go being a toolbag =] )
My boys Cise and Menace were going hard on the Xbox and I started geekin over these. When I showed them what the fuss was about I didn't get the response I'd expected; they were less than enthused… but hey, I like em, so I'ma show em
Check em out...
Fendi: "Patent Hi-Top"
These fit right into my wear em to the club category. I told u, I hate hard bottoms. These are sneakers, so I can dig it. They look comfortable as shit. And they real sleek and smooth. Not very versatile but they make a statement.
And they are FENDI…
Collector Value: *****
Practical Value: ***
Street Value: *****
I'd way rather wear these than some Prada America's Cup joints. But then again I'm a weirdo. And I need to separate myself from the pack. Cise gave these an 8. My rating is somewhat higher. The Stuntman cares not about shiny gaudy look-at-me materials!
***************************************************
Chanel: "Coco Phone"
Come on… It's clear. It runs windows. And it's CHANEL.
I think this is a concept but I'ma rate it anyway. I think its great.
Collector Value: *****
Practical Value: *****
Street Value: *****
What would you be able to tell me? Nothin!!! I might knock the little keychain thing out. It looks a lil too feminine for the kid. And how do you type shit? I want to play with one.
(yah: dude you gotta get me the Fendi sneaks and the Channel phone for xmas or you're fired)