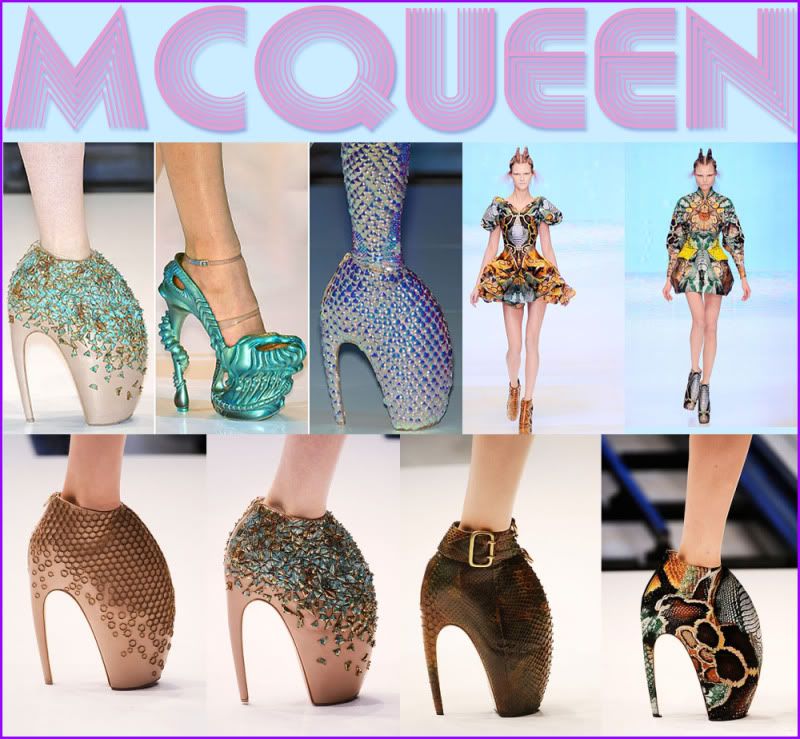 When I was a young girl I was never into dolls, I was never really into pretty things. Partly because no one was calling me their little princess. Or perhaps cus there was about 12 of us in a 3 bedroom apartment so there wasn't time or space to try to be pretty....I'm working through that in therapy so I'll keep my childhood issues outside this blog. Ahem. Moving right along. Thank you!
Someway, somehow the new Alexander McQueen collection has made me envision myself in hues of pink, dusty blues and smelling of lavender. Lace gloves, pretty hats and fans like a southern belle in the year 3010.
Flash to a scene of an old lady with the spare room full of those scary porcelain dolls with the creepy eyes that follow you around the room except my room would be filled with these beautiful space age, Alice in Wonderland dresses and shoes.
I'd invite my friends and have tea parties sipping tea real, real slow in antique sterling silver tea cups served by my butler with our pinkies way, way up!
Ooooh this collection is a bit scary and oh so purty!!!! The dresses seem out of a modern day fairy tale if you're an alien such as myself. Did I just say that...um I was kidding. NO need to be hasty and call the Men in Black. Thanks!
I took the liberty of remixing the music and choosing a more appropriate song. The tempo is perfect for the girl's walk and the lyrics seem fitting. Keep it on repeat.