With all the androgynous, fetish, robotic warrior, retro-futurist fashion on the streets, runways and print I couldn't help but think of Zula from Conan the Barbarian. Grace Jones herself to be exact.
As the poster child for androgynous, fearless, female, sexual power she has inspired not only fashion, music but the arts. Andy Warhol painted her portrait and Keith Haring painted her body for a 1985 performance at Paradise Garage. Her influence is powerful but as silent as deadly. She's often overlooked as a musician but her style is undeniable. Her style is recognized by those who don't know her music.
Lady Gaga, Rihanna, Naomi and Amber Rose all women perceived as fearless, outspoken and dare I say BITCHes! as in WORK BIIIIIIIIIITCH (with index finger wagggin' 2 inches from your face) have been "showcased" to personify Grace in some way or the other.
Then we have everything Madonna has done, many of Janet's look, fetishes and antics, Lady Gaga, Beyonce and many others.
All pretending to be unapologetic. They're not doing it justice if you ask me...cus even now in her 60s Grace still puts a little fear in your heart. Cus she's that fierce.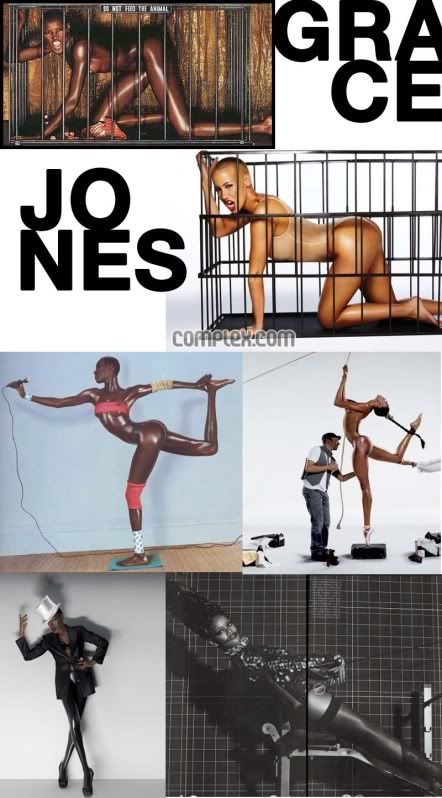 Caged Amber Rose as Grace

Naomi as Grace
Rhianna as Grace
My favorite picture of all!!! My fantasy parents Grace and Andre Leon Talley. (I switch out my fantasy mother between Grace Jones and Anna Wintour.